Driver Newsletter
Riding Strong Three Generations Long!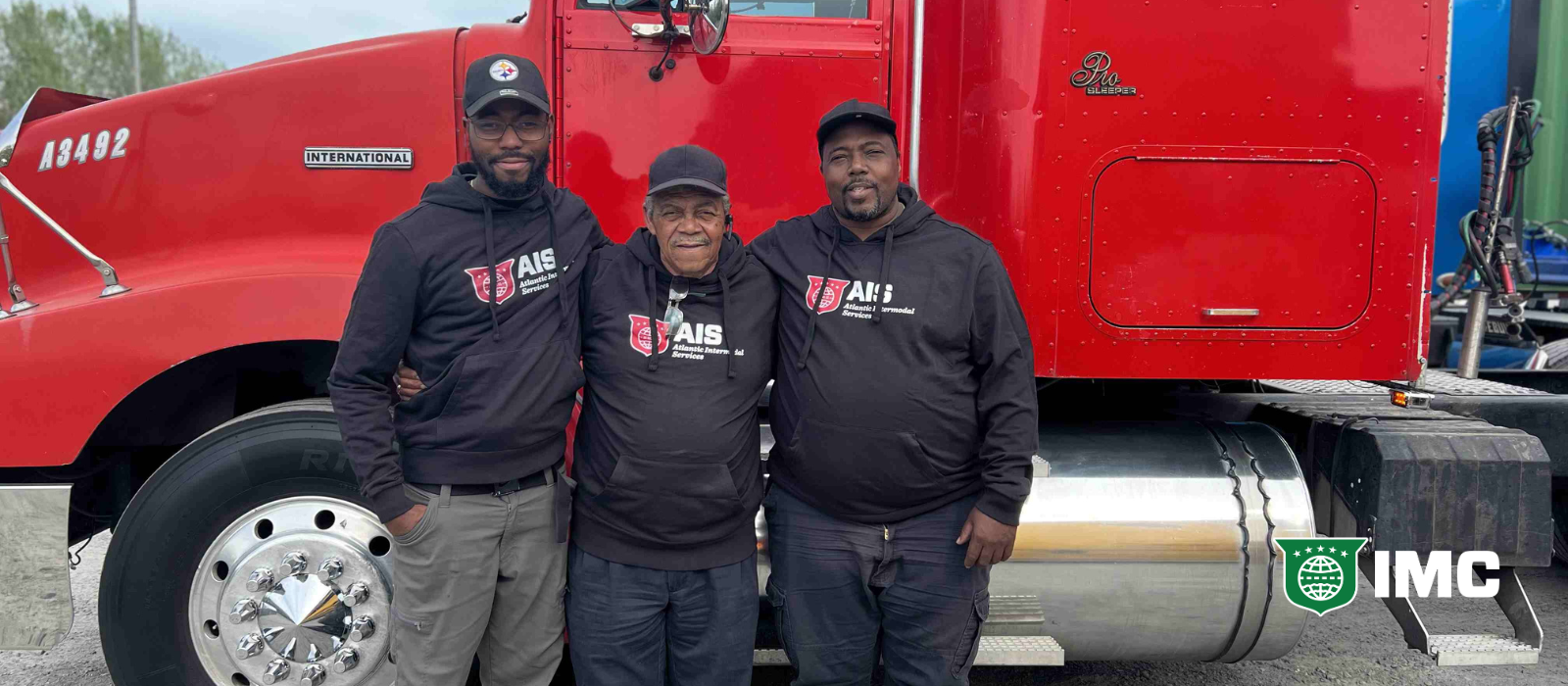 Thousands of drivers will pick up their phones this week to wish their dads a Happy Father's Day. For the Hardy family, a call won't be necessary because three generations of Hardy men work together year-round driving for IMC out of Norfolk, VA.
McDaniel Hardy, Sr. (age 75), McDaniel Hardy, Jr. (age 52) and Daniel Hardy (age 31) are the father, son and grandson team who ride up and down Route 58 daily. For McDaniel Hardy, Sr., the road to becoming a driver began in 1968 when he started driving a box truck at Smithfield Packaging. Over the years, he's owned eight trucks and driven routes from 'just up the road' to 'coast to coast' and everything in between.
"When my grandson Daniel was six years old, I took him with me for a cross-country delivery to California and back," said Hardy, Sr. "We had fun and, when we returned, I told him I had another load to drive to the other coast. He said, 'Well, I'll just see you when you get back, grandpa!'" Lucky for all three men, it turns out that driving was in their blood and the family carries that legacy to this day.
"I've always been a daddy's boy," says McDaniel Hardy, Jr. "My dad left every Sunday night and, when he got home on Friday nights, I'd be in the driveway jumping up and down when I heard his truck coming around the corner. I missed him when he was gone. So, when my kids got to be older teenagers, I followed in his footsteps and got my driver certification."
At first, Hardy, Jr. drove box trucks delivering groceries, dairy milk and such. Later, he bought his own truck, became an owner operator and has never looked back.
"I got tired of running that distance on the eastern shore," he says. "One day I saw a truck on the side of the road on Route 460 and I stopped, test drove it and bought it. Everyone wanted so many years of experience but IMC gave me a chance as a rookie driver. I like working here and I've never driven for anybody else since."
Over the years, he often leaned on his dad's experience and guidance.
"I learned from him how to trust the truck and trust my judgment," says Hardy, Jr. "It's not all fun and games because driving is serious business. The truck looks majestic when you see it coming down the road, but it's a job that requires knowledge and experience – both of which I gain from my dad."
And that guidance trickles down to Hardy, Jr.'s son as well.
"I knew as a young boy I wanted to drive trucks," said Daniel Hardy. "I couldn't wait until summertime because I could go driving with them. I remember how it made me feel watching them come down the road and now I have a son of my own who loves it the way I did when I was little."
Daniel went to driving school in 2016 and bought his first truck in 2020 amid the pandemic.
"The night before my first day of driving, I was so nervous," said Daniel. "Once I got in the cab, all the memories came back to me and I was totally fine. I love working with my dad and granddad. We go into the port single file and we are at the yard at the same time. At IMC, they keep us together and that's the way we like it."
Daniel recognizes what a rarity it is to get to be able to work with his family. "It's an honor to be able to run with your father and grandfather," he says. "For me, going from the passenger's seat to the driver's was a huge accomplishment and I owe a lot of that to them. It's not very common to have three family members riding in a row, so we make our mark out there. They see us coming and they know we're together. They even get us mixed up – I love it!"
Hardy, Jr. agrees that driving is the best career choice he could have ever made. "There's nothing like getting up in the morning, turning that key and hearing that motor run," he says. "I really enjoy what I do. In the end, driving here pays off more than a typical 9 to 5 job. When the opportunity came to drive here, I made it happen. I don't see doing anything different in my career. I plan to be driving here until I retire."
For Hardy, Sr., driving has been a lifetime endeavor nearly 55 years in the making. "It's a pretty good record to be out here driving for 54 years and do it safely," he says. "If you don't have patience, this is not the career for you. Patience makes everything safer. However, at IMC they have us in and out pretty quickly now which is nice. I thank God for blessing me to be out here that long and I'll continue to drive with my boys just as long as I've got my health and my strength."
His grandson Daniel agrees that patience is a virtue to any driver. "Patience is one of the biggest assets in this field," he says. "I don't get upset with my dispatcher if I get tied up at the port. Driving here, the dispatchers have a good attitude and if drivers keep one too, we all get taken care of."
So, what will the Hardy men be doing for Father's Day? According to Hardy, Jr., they'll be "putting a few steaks and hot dogs on the grill to relax and enjoy being together with the whole family."
Sounds like another family tradition three generations long and counting.