Driver Newsletter
Driver Reflects on Being Part of the Nationwide IMC Family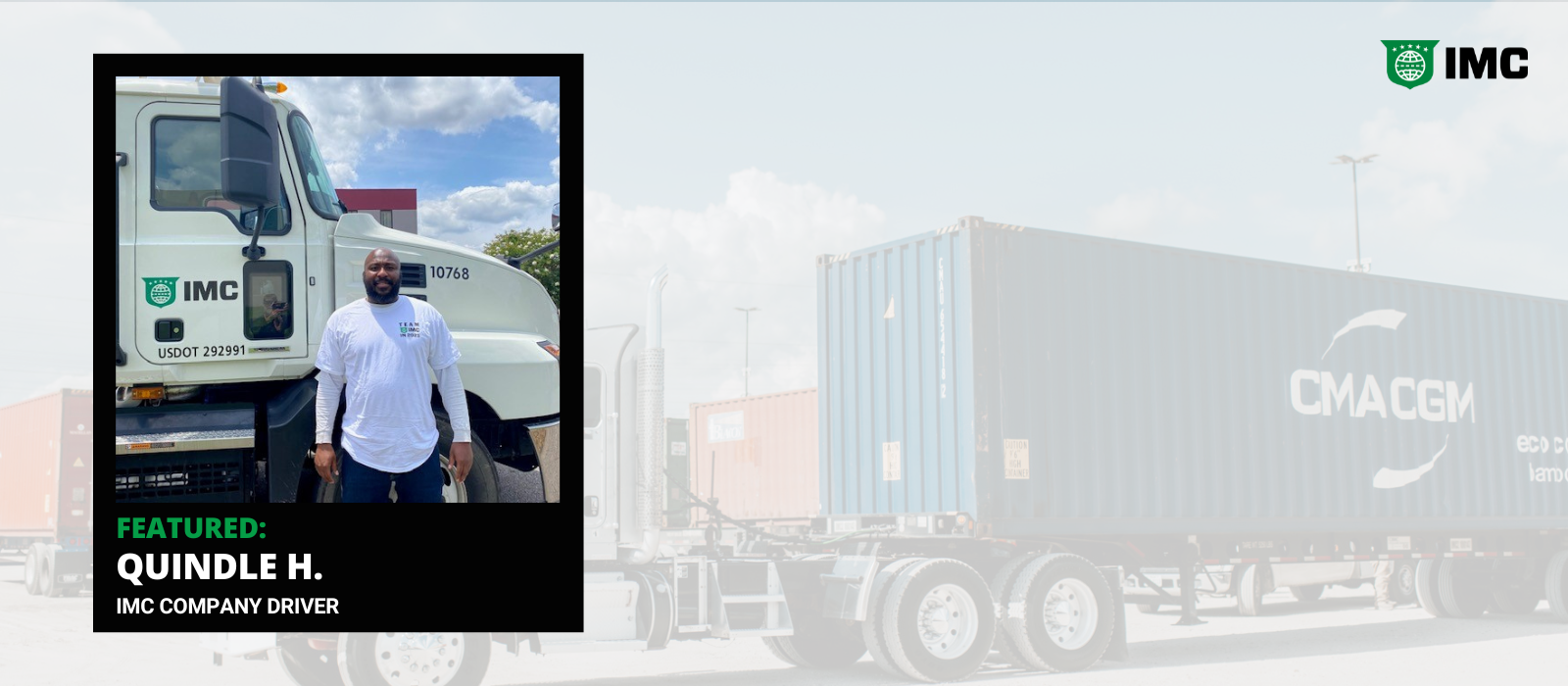 For driver Quindle Horn, a conversation with his future dispatcher was all it took for him to become a part of the IMC family. "I was looking for a job that would keep me more local so I could be at home with my son," he says. "I saw the IMCG listing online, reached out to Robert Summers and the rest is history!"
That was in 2019, but the road to Quindle becoming a driver was laid well before that. He first began driving in 2012, following in the footsteps of his three older brothers who have driven for decades.
"I used to go on the road with my oldest brother," he says. "I got to travel and see the country on the open road. I saw a career that could give me a free spirit and a free mind, so I decided to take the same path they took."
This year, IMCG transitioned its company name to IMC, as all IMC companies are consolidating into one brand. "For us, it was as simple as just taking a letter off of our name, so the transition was pretty smooth," he notes. "Everything else has stayed the same. Drivers are very adaptable to changes, but I haven't even noticed any changes except the name. All the people I work with and the customers I serve remain the same."
Before joining the IMC family, Quindle drove for Snyder International and later for a company out of Birmingham. He has been a company driver and an owner operator in his career. He is now a company driver out of our Huntsville location and enjoys the freedom that driving for IMC affords him and his family.
"I am home daily and I run the same routes to the same customers," he says. "I live close to work, which is nice, and the flexibility of my job allows me to spend valuable time with my son who is heading into his senior year of high school."
When asked why he likes driving for IMC in particular, Quindle quickly credits the people.
"For one, I have an amazing dispatcher, Robert, who is always available to help and support us on the road," says Quindle. "Plus, my fellow drivers are always willing to lend a hand."
That may be part of the reason why Quindle thought the company consolidating into one name – IMC – was a great idea.
"I think it is awesome that we can bring everybody in as one big family," he notes. "That way, if you move from one area of the country to another like I did, you know you're still a part of the same family."
And, as with most families, Quindle knows IMC has him covered.
"They make it easy to be a driver. If you want to be home daily, they'll help you be home daily. If you want to schedule time off, they're going to help you get time off. It makes me go the extra mile. They do it for me, so I'm going to do it for them. After all, that's how families support each other."