Customer Newsletter
IMC Names Joel Henry as First CEO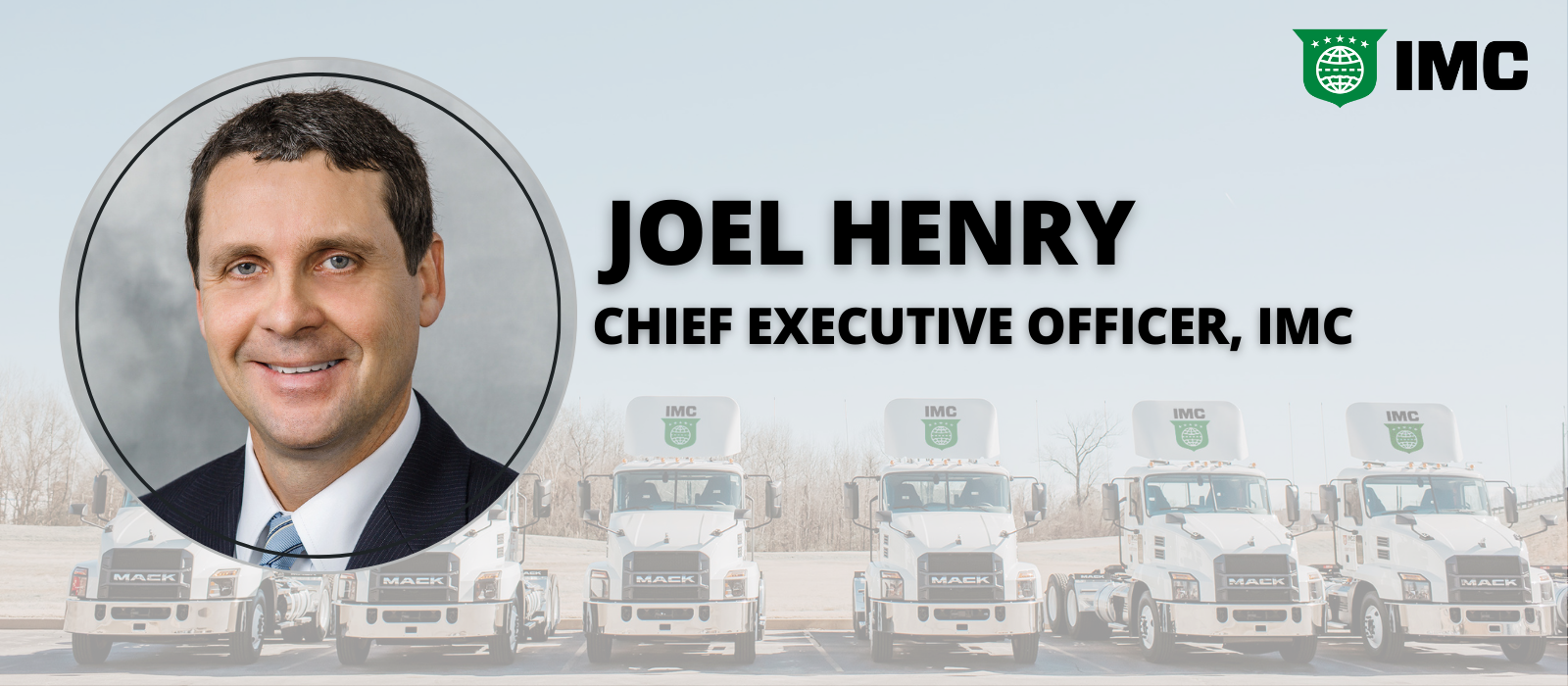 IMC, the largest marine drayage company in the United States, has announced that, effective June 1, Joel Henry will become the company's first-ever CEO. Joel has 18 years of tenure with IMC during which he successfully led IMC's 42-year-old brand, IMCG, through continual growth and expansion initiatives across the Southeast. In his new role, Joel will be responsible for customer service, operations, depot services, national sales, safety, rolling stock procurement and maintenance for chassis, lifts, and trucks. Joel will report to IMC Chairman, Mark H. George.
Joel is a graduate of Mississippi State University where he double majored in marketing and transportation. Joel's transportation career began at Comtrak Logistics in 1989 where he remained until joining Intermodal Cartage (IMCG) in 2005. An industry veteran, Joel has a proven track record in the transportation and logistics industry and is committed to providing superior service and support to customers and drivers alike.
"Throughout his tenure, Joel has proven to be a humble, disciplined, growth-oriented and effective leader. I am confident in his abilities to take IMC to new horizons while staying true to our roots" says IMC Chairman Mark H. George.
Joel's promotion at IMC is part of the company's consolidation under one brand.
Chris Henley will become the new president of IMC's Southeast Region, fulfilling Joel's previous duties. Chris has 7 years of leadership expertise at IMC, previously serving as Vice President of Trucking for IMCG's Memphis Region. Industry-wide, Chris has spent 30 years in trucking and intermodal drayage during which he has managed record volumes while ensuring superior driver safety and client satisfaction. Prior to joining IMC, Chris was a VP at Comtrak/Hub Group Trucking.
Nick Payne, will become the new Executive Vice President of Drayage Sales for IMC. While he started his career at IMCG as a dispatcher, Nick has held many operations, sales and management roles over the years and recently received his 20-year IMC team member award. He is passionate about improving system processes while building relationships and delivering superior service to clients. Nick played a key role in guiding the design for IMC's client portal, IMCompass.
"Both of these gentlemen know our company well and have been integral in our company's success," remarks George. "These promotions will bolster our position as the best-in-class, single source solution for drayage in the U.S."
IMC is also welcoming Brian Kobza to our team as the Executive Vice President of Commercial and Strategic Sales for IMC. Brian has 20 years of transportation and logistics experience that spans both operations and commercial roles at marine terminals, ocean carriers, ports, and a railroad. Brian will work with the rest of IMC's sales team to lead sales growth. He currently serves on the Board of Directors as the 2nd Vice President for the Traffic Club of New York, and as an Advisory Board Member at the Massachusetts Maritime Academy and previously served on the Port of NYNJ's Council for Port Performance.
"Our success has proven that we are stronger together and we look forward to continuing our legacy as one brand in 2023," says George. "Trucks in the Southeast are already rolling out with the IMC placards on them, so we are excited to showcase our unity as we become one team – IMC."