Driver Newsletter
Celebrating the Driving Force of Women in Trucking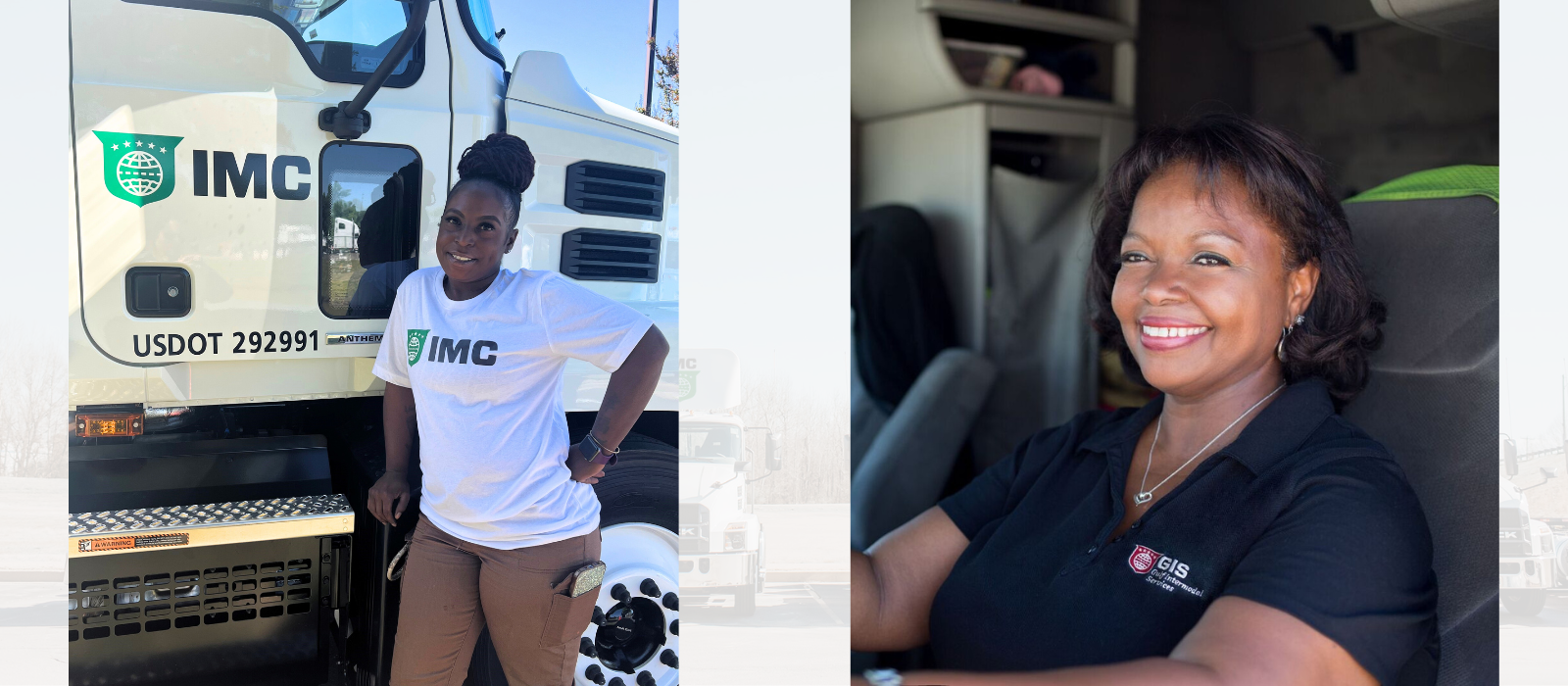 IMC is proud to support women and mothers in trucking. With dozens of women drivers and hundreds of female support staff to keep them up and running, it's just one of the many ways that we honor diversity in our workforce while combating the driver shortage with some of the most talented transportation experts in the field: women.
Rare as they may be, female drivers have a powerful story to tell – one that may encourage the next generation to consider driving as a viable career. Today, we introduce you to two shining examples of women in trucking: Felecia Pipkins and La'Kevia Hicks.
Felecia started driving in 2007, but the seeds of hope for her career in transportation were planted long before that. "Much of my family is involved in automotive and transportation and that showed me it was possible," she notes. "I try to pass that along. Over the years, my kids and grandkids ask me all about driving, what the signals mean on the trucks, and how the equipment works."
Felecia has a son, a daughter and a granddaughter. "My granddaughter loves to get up in my truck," she says. "She even named my truck Sparkle for me because we keep it so clean."
When asked why driving might be a good career for mothers, Felecia notes, "You get to be home every night and weekend if you like, so it's a perfect fit for mothers who want to be there for their kids' events and visit with them after school. This career affords a lot of flexibility which is something any mother can use more of!"
La'Kevia Hicks, a driver who has been with IMC for two years, agrees. "I have a two-year-old daughter that I get to drop off and pick up from daycare every day," she notes. "I make a good wage driving so I can support my family and be home with my daughter every night."
Like Felecia, a family role model helped influence La'Kevia's decision to consider a career in trucking. She originally got into driving because her father is an over-the-road driver and said it was a profitable and flexible career.
"Not only is the career adaptable, but our company is too," she notes. "If I am able to drop off my daughter at daycare early, our team will try to find me an extra load to help me make extra money."
While people are often surprised to find out that La'Kevia is a driver, she thinks it is a great career choice for women.
"I can never understand why people are so shocked when I get out of the cab of the truck," she says. "I look forward to more and more women joining the industry because, with the right support system, driving can be an ideal career for mothers who want to make good money and be home with their children every night."
Tune In: IMC driver, Felecia Pipkin, and IMC's director of driver recruiting, Meghan Turner, were recently interviewed on a special Mother's Day edition of the What the Truck?!? podcast focused on women in trucking. Take a listen to the recent by clicking HERE.