Driver Newsletter
IMC Driver Reflects on Decades of Service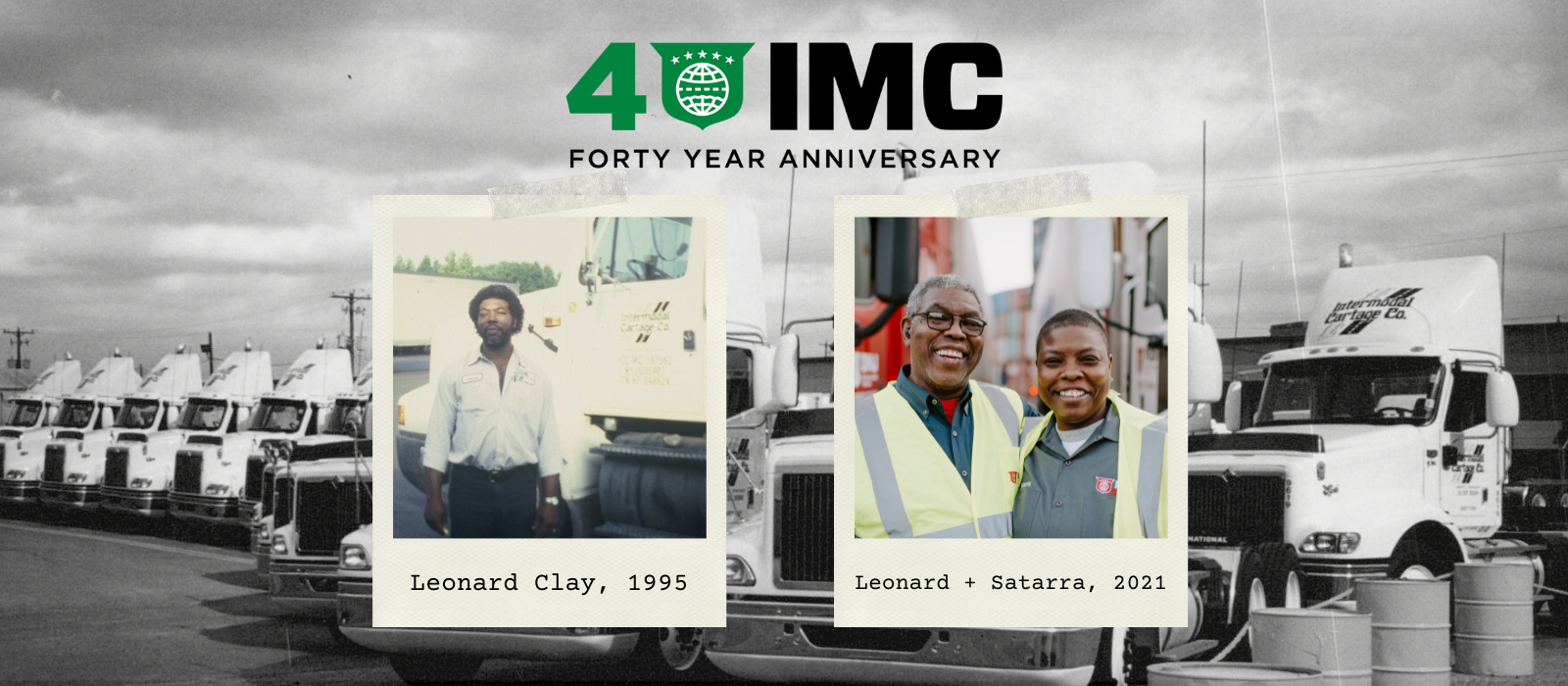 As IMC embarks on our 40-year anniversary, we're looking back to some of the people and experiences that have helped us get to this milestone.
Leonard Clay joined the IMC family as a driver more than 27 years ago. Reflecting on the early days of his career brings up memories of good times and comradery with fellow drivers.
"Many days, we would visit after work or get together on the weekends," he says. "On Fridays, another driver named Reggie would deep fry a turkey and we would all sit around, eat, talk and just hang out with the guys. Sometimes so many people came that we had to go to the store and get a second turkey!"
Leonard started driving a flatbed for International Paper in 1990 and then moved to Atlanta to work for Weyerhaeuser. He joined Intermodal Cartage in 1995 after he came back to Memphis and has been with the company ever since.
Things are much different now than when Leonard started in the industry. "Back in the day, we used CB radios and talked to each other often," says Leonard. "Technology has changed the way we do things, but it's still important to keep that personal connection between drivers. That's what I strive to do."
Maintaining the human element, particularly with young drivers entering the field, is one of Leonard's keys to success.
"In the beginning, everybody knew everybody and it was a really sweet time to be a part of the company," he says. "Of course, now it's grown to be something much bigger and I am proud to have been at IMC in the early years and to have kept in touch with many drivers from back in the day."
In fact, Leonard still keeps in touch with Reggie as well as other fellow drivers from the beginning of his career.
"A fellow driver, Clifford, came by the office a few weeks ago just to say hello, even though he is retired," says Leonard. "He was in town and wanted to check on me to see if I was okay. Drivers care about each other, and that's something that hasn't changed."
When asked if he is glad he's stayed with IMC so long, Leonard points out, "Working at IMCG has enabled me to raise 4 daughters and now I have 8 granddaughters and one grandson – and I get to be home with them often."
Now a driver supervisor, Leonard provides instruction, training, guidance and support to IMCG drivers, inspiring the next generation while keeping up the traditions of the past that have made him and the company successful.