IMC Companies News
IMC Announces Investment in Electric Vehicles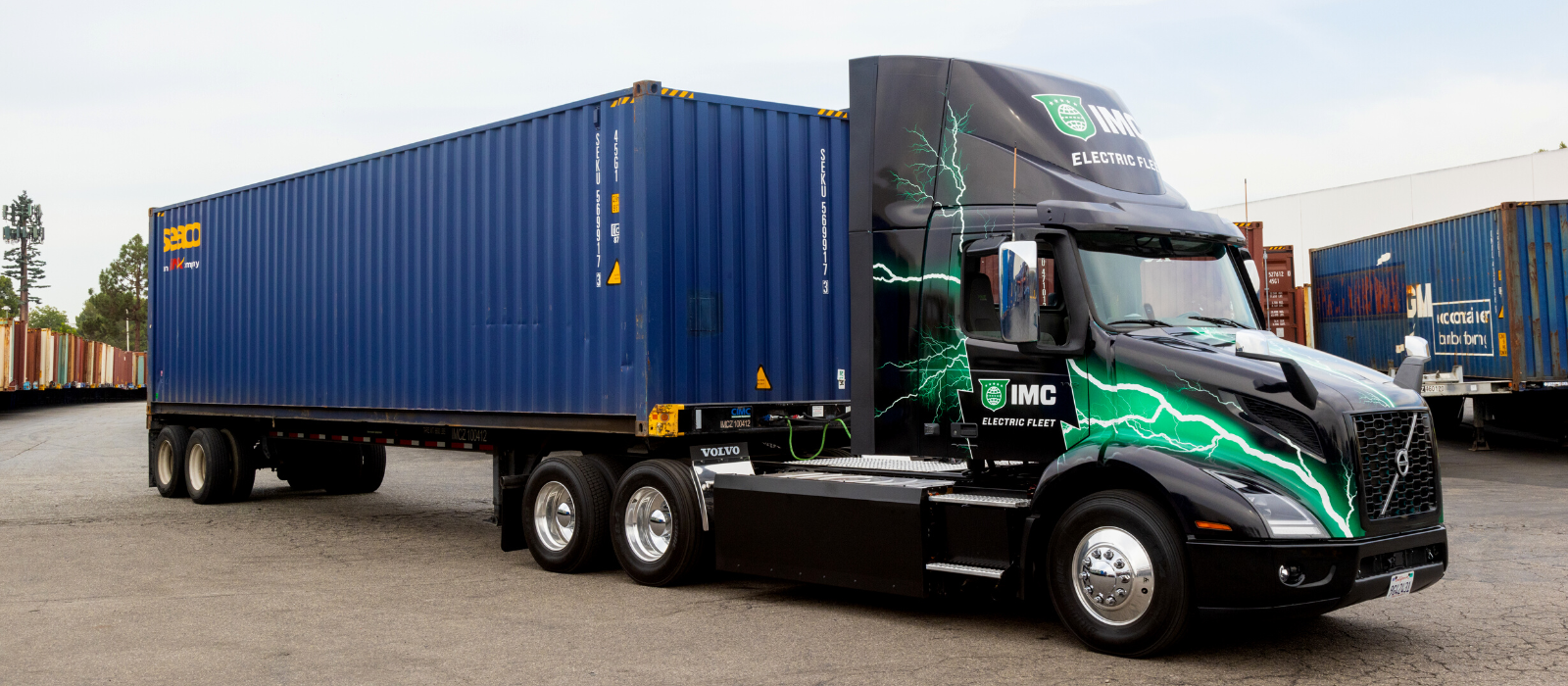 IMC Companies, the largest marine drayage company in the United States today announced at the Intermodal Association of North America (IANA) Intermodal Expo that Pacific Drayage Services (PDS), an IMC Company, is adding 6 Volvo electric trucks to its fleet this year.
"We believe this is an investment will greatly benefit our company, our customers and our environment," says Jim Gillis, president of Pacific Drayage Services. "We have long been a good steward of the environment and we will continue to find ways to reduce emissions while providing efficient and sustainable supply chain transportation solutions."
Enabled by California's Hybrid and Zero-Emission Truck and Bus Voucher Incentive Project (HVIP), a discount program that has funded 9,000+ clean vehicles, along with a sizable investment by IMC Companies, PDS will deploy its first six Class 8 battery electric vehicles (EVs) in Southern California where 60% of communities are burdened with pollution.
Infrastructure is currently being installed in its Compton, CA facility to enable not only current EV usage but to upscale to accommodate future usage of up to 30 EVs. This year, PDS has already moved its yard hostlers and warehouse forklift drivers to electric vehicles. What's more, in 2023, PDS will replace the oldest diesel vehicles in its fleet (2018 MY) with new vehicles to further minimize emissions.
"We will continue to purchase and deploy new BEV technology within our Class 8 fleet with the ultimate goal of running carbon-free drayage operations by the year 2030," says Gillis.
As a premier container drayage and warehousing provider, PDS has locations strategically positioned across California in Compton, Riverside, Fontana, Bakersfield and Tracy servicing the Ports of Long Beach, Los Angeles and Oakland with both local and OTR tractors. With a focus on being an asset-based provider, the PDS fleet is made up entirely of company trucks and drivers. A testament to the company's dedication to protecting the environment, PDS was recently named to the Environmental Protection Agency (EPA) SmartWay High Performer List for the second consecutive year. PDS is part of IMC Companies, the nation's largest intermodal drayage provider. For more information, call 1-844-903-4737 or visit www.pdsusa.com.