Driver Newsletter
This Father's Day, Hear from Father/Daughter IMCG Drivers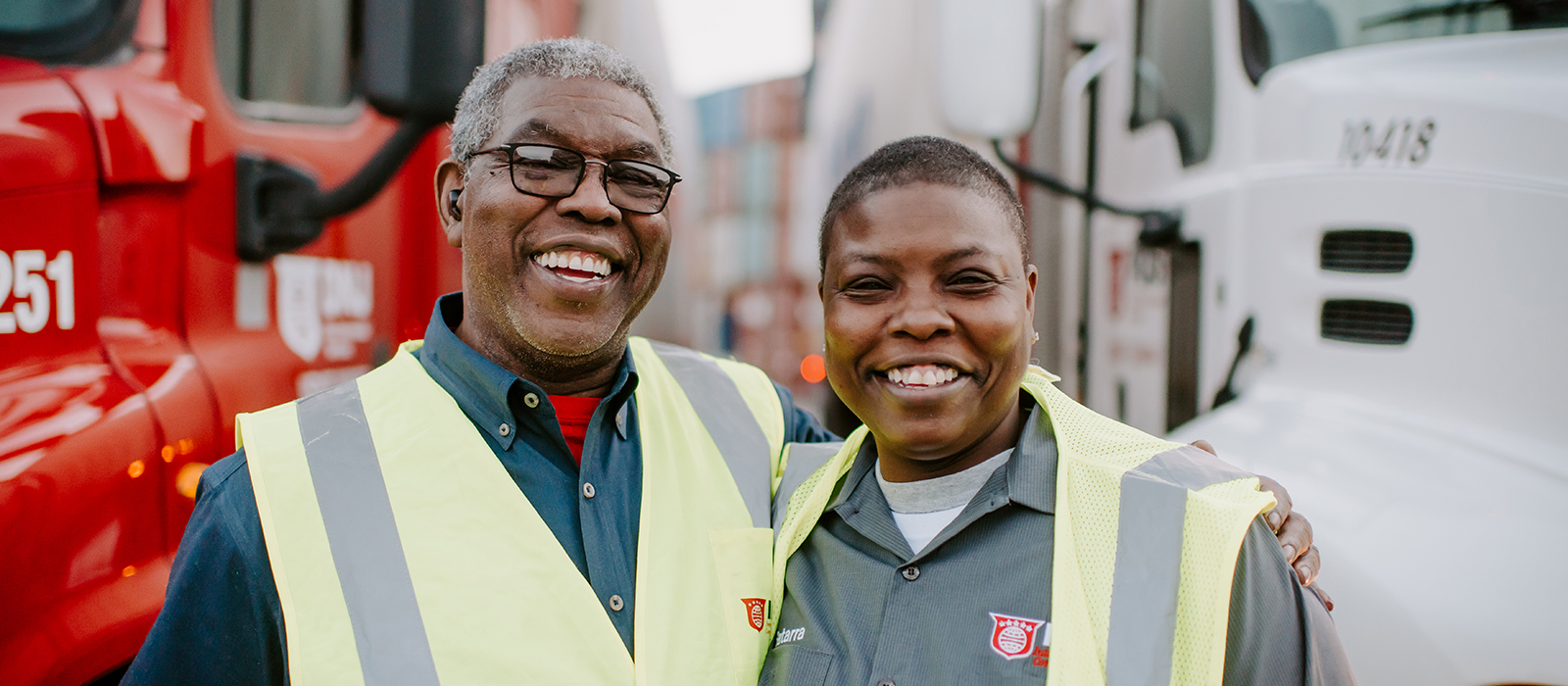 For many, family is the driving force behind their careers. For Leonard and Satarra Clay, being a driver also runs in the family.
Leonard has been with IMC Companies for more than 25 years and his daughter, Satarra, joined Intermodal Cartage last year.
Leonard started driving a flatbed for International Paper in 1990 and then moved to Atlanta to work for Weyerhaeuser. He joined Intermodal Cartage Company in 1995 after he came back to Memphis and has been with the company ever since. He currently serves as a driver supervisor, providing training, guidance and support to IMCG drivers.
"He's very patient with everyone, probably because he has experienced nearly every situation they are going through," says Satarra, who has fond memories of her father from his early career as a driver.
"I can remember him letting me get up in his truck and honk the horn when I was little," said Satarra. "He is such a great dad and I always looked forward to seeing him come home at the end of each day."
Leonard is also grateful for his career. "In my current role, I have the privilege of mentoring other drivers which is truly a blessing," he says. "I'm not only helping them with trucking issues, but I'm also able to encourage them when they have bad days because I've experienced those as a driver myself."
Things are much different now than when Leonard started in the industry. "Back in the day, we used CB radios and talked to each other often," says Leonard. "Technology has changed the way we do things, but it's still important to keep that personal connection between drivers. That's what I strive to do."
Maintaining the human element, particularly with young drivers entering the field, is one of Leonard's keys to success.
"Everyone calls him Mr. Leonard," says Satarra, "but I just call him dad!"
Satarra, who is one of 4 daughters, didn't always work as a driver. In fact, she was serving in a management role at Family Dollar and Leonard kept encouraging her to "get behind the wheel." In 2019, she went to trucking school and later joined IMCG in May of 2020.
When it came to getting her road test completed, Leonard wanted to be the one to administer it.
"I can remember training her and how proud I was when I first saw her in her truck," he says. "It was one of those teary-eyed moments filled with pride."
Satarra feels the same way. "I knew then that I could be like him and have a good career driving," she says. "It's amazing! I get to see my dad every day at work and, while it reminds me that I'm his kid, it also reminds me of the career he encouraged me to build."
Both Leonard and Satarra agree that working for IMCG was a great career decision for both of them. "They care about drivers, equipment, safety, and getting you home to see your family every night," says Leonard. "IMCG has afforded me a good lifestyle. I've raised 4 daughters and now I have 8 granddaughters and one grandson, all of whom are incredible blessings to me. I feel highly respected in my job and in my family. I hope they can look back and say, 'He was a good man and a good driver' and that maybe that will encourage the next generation."
Satarra now has a 21-year-old daughter who recently graduated from college this past May. "She is always on the go and loves to drive," says Satarra. "Who knows? Maybe she'll follow in the family tradition too."